Every RV owner should know how to repair an RV roof, as even the smallest crack or gap can mean severe and costly water damage over time. Holes in the roof also let in bothersome insects as well as outside heat and humidity, while letting out your heated or cooled air from below. A damaged roof also lowers your RV resale value significantly!
For smaller cracks and gaps, use fiberglass repair tape or sealants designed for your RV roof in particular, or a synthetic rubber roofing membrane for larger holes and tears. Gel coats can then be applied as needed to restore a roof's glossy shine.
Since keeping your RV roof in good repair is so vital for the overall condition of your trailer or motorhome, you might note some added tips for how to repair an RV quickly and easily. It's also helpful to note some maintenance tips for an RV roof, to help avoid otherwise unnecessary repair and keep your RV in good condition for as long as possible.
RV owners should also know when it's time to call the pros, as some larger cracks and other such damage need more than patching or sealing. Scheduling professional RV repair as needed ensures that your trailer or motorhome is damage-free, safe for use, and comfortable on the inside!
How Do You Repair an RV Roof?
First note that an RV roof is typically coated with a fiberglass, vinyl, or rubber layer, to help repel water and sunlight. This coating is not always durable enough for supporting your full body weight, so grab a piece of plywood that will fit across the span of your RV roof before climbing onto its surface; set this plywood down and try to walk along its edges as much as possible, to distribute your weight across the roof span.
It's also vital that you sweep the RV roof of all debris before making repairs. You don't want to get leaves, twigs, or storm residues caught in a tape or sealant, as this can loosen that material and create even larger gaps and cracks! Once you're prepared the RV roof, note a few tips on the right repair materials and techniques:
Never use petroleum or citrus-based materials on your RV roof, as this can cause damage and stains. The damage might not be large enough to spot but it can allow water to seep into the RV frame, leading to wood rot and unhealthy mold growth!
EternaBond is an excellent product for sealing off gaps and cracks. This is made for RV roofs in particular and applies like standard tape, but ensure you press it down firmly and evenly when applying, to avoid folds and other gaps.
Rubberized leak stoppers are also excellent for sealing deep cracks and gaps. You can buy this in gallons and apply with a brush for deep cracks, or in a tube, useful for squeezing into tight corners. The oily material seeps into those deeper cracks and then dries and hardens for a watertight seal.
If the RV roof is severely torn, apply a rubberized leak stopper into the tear and then add fiberglass tape over the patch once dry. This will help close up that gap and keep the roof from tearing even more.
Rubber roof tears or spalling can be repaired with EPDM or ethylene propylene diene monomer. These products are often called liquid roof and many are made for RV roofs in particular. EPDM is mixed with an activator and then brushed over the damaged rubber, similar to applying paint.
Self-leveling sealant is used to repair roof joints. This sealant will seep into those joints and fill out as needed for thorough sealing.
An RV owner might also take the opportunity to apply some sealing tape or solution around anything that sticks out from the roof, including vents, antennas, skylights, and the like. An added layer of protective sealant around those openings will help avoid water damage while also keeping interior spaces insulated properly.
How Much Does It Cost to Replace an RV Roof?
On average, it might cost about $300 per linear foot to replace an RV roof, or $3000 for every 10 feet of length to your RV. So, to replace a 36-foot RV roof, your costs might start at about $10,800. These costs will go up or down depending on the roof material, if you need new gutters and awnings, and other such details.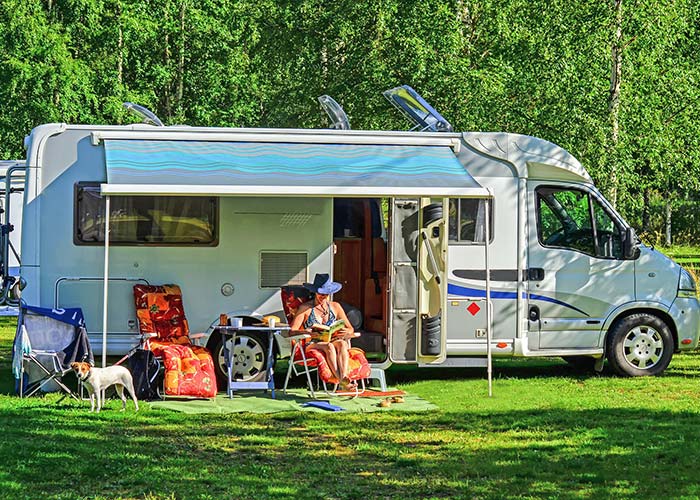 Recommended Frequency to Recoat an RV Roof from the Experts
Recoating your RV roof helps to keep it in good repair, adding a layer of protection between the roof and harsh sunlight and weather. Regular recoating avoids premature damage including cracks and gaps, which then prevents water damage including wood rot and mold. Adding fresh RV roof coating and sealing can even extend an RV roof lifespan by several years!
An RV owner should typically reseal or recoat their RV roof every year, but you might do this twice per year if you don't store the RV under a carport or other protective enclosure. If the RV is exposed to severe weather, harsh and bright sunlight, or other extreme conditions, you might also consider recoating the RV more than once per year. Your local RV dealer or RV repair company can advise the best schedule for your RV in particular.
How Long Does an RV Roof Last?
An RV roof lifespan depends on its material, how often you recoat it and quality of materials used, if the RV is exposed to harsh conditions consistently, and if you repair damage quickly. Most high-quality RV roofs last about 5 to 10 years before they experience water leaks and other damage needing repairs, and will last about 20 years before they need replacing altogether.
To ensure your RV roof lasts as long as possible, recoat or reseal it every year or as often as needed to keep out water and humidity. Check for cracks, gaps, and other damage consistently and repair these quickly. Store the RV under a carport or cover it with canvas or a tarp, if you cannot keep it stored indoors, to protect the roof from excessive rain, high winds, falling branches, and other dangers.
How Do You Maintain an RV Rubber Roof?
As with every other part of your RV, maintaining a rubber roof properly can keep it clean and in good condition, and help extend its lifespan. Neglecting its maintenance or using the wrong tools and techniques can mean damaging the roof and needing a replacement sooner rather than later!
One of the first and most vital aspects of RV roof maintenance is a regular inspection. An RV user should check the roof for cracks, splits, gaps, and worn areas regularly, so you can make repairs quickly. Also, avoid walking on the roof as the rubber membrane or coating might not hold your weight properly, as said.
Clean the RV roof regularly, to remove abrasive, damaging debris. Avoid citrus or petroleum products and harsh brushes; instead, use soft cloths and dishwashing liquid diluted in warm water. For stubborn stains and rust, use an RV roof spot cleaner such as B.E.S.T. and BioClean. After rinsing, ensure you wipe down the sides of the RV so your rinse water doesn't stain those exterior walls.
Once cleaned, check for gaps and cracks or other signs of damage. For quick patches, use EternaBond tape. If the tape doesn't seem to hold, remove any old sealant with a scraper and then apply a self-leveling sealant over the damaged area. Apply a gel coat over this spot, to keep the roof looking like new.
How Do I Know If My RV Roof Is Bad?
If an RV roof has suffered wood rot or other structural damage, or is so cracked and chipped along its exterior that patching is insufficient for closing up those gaps, it will need replacing. While an RV repairperson near you is the best choice for evaluating your RV roof's condition, note a few tips on how to evaluate it yourself before bringing it to a dealer or repair shop.
Look for discoloration and feel for soft spots around anything going through the roof, including vents, antennas, skylights, air conditioners, and the like. Soft spots often indicate wood rot and other structural damage inside the roof.
Look for discoloration, soft spots, and wrinkles in wall coverings around windows and doors, as this can indicate water damage or water seeping into the RV and collecting around those frames.
Check inside upper cabinets along the area where the cabinet attaches to the roof and back wall. Look for soft spots, splintering, and other signs of water damage or rot.
Feel underneath mattresses in sleeping berths and built-in beds, as water coming in from damaged roofs can often pool around and under these areas.
Check for soft spots along the roof surface and especially around seams joining panels together.
When water leaks through the roof sides, it will cause delaminating, when the exterior fiberglass separates from the sidewall. If you notice bubbling, bulging, or other disfiguration, it might be time for a new RV roof!
Can You Patch an RV Roof?
For larger cracks you can't close up with tape or sealant, invest in a patching kit made for RV roofs. These will include patching materials, similar to tape but which you can cut into a square, and liquid sealant that goes around the edge of the patching square.
To use a patching kit, first ensure the roof surface is clean and dry. Next, cut a square of the patch large enough to cover the crack or gap with a few added inches around the sides. You'll need to peel off the backing but put the edge of the patch onto the RV roof as you do, pressing it into place while peeling the rest of the backing off.
As you work, note that you do not want to pull the patch up after it's made contact with the RV roof, as this can damage the patch and the roof. Work slowly, to ensure there are no bubbles or folds. Push the patch down with a flat palm as you peel the backing so it sticks to the roof completely.
Once the patch is in place, use a folded cloth and start from the center of the patch, rubbing it outwards so it forms a tight seal with no channels or gaps that allow in water. Lastly, add a bead of the sealing caulk around the outside edges of the patch. Let it dry and then scrape off the excess for a flat, even line.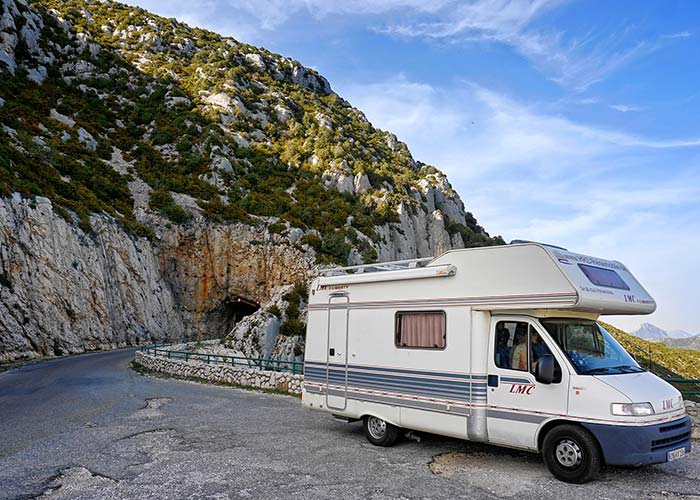 What Is the Best Sealant For an RV Roof?
The best sealant for your RV's roof is one made for its materials and that will withstand area weather conditions. You also want a sealant that's easy to apply! Note a few suggestions for high-quality RV roof sealant you might choose for your trailer or motorhome.
Dicor 501LSW Self-Leveling Lap Sealant. This sealant is known for holding up against harsh weather conditions and especially UV rays, and for lasting for many years before it needs replacing. Dicor lap sealant can also be used around air conditioners, vents, and other obstructions that create gaps in the roof. Dicor lap sealant can also be used on a number of materials, including fiberglass, wood, aluminum, and much more.
EternaBond RSW-4-50 RoofSeal Sealant Tape. EternaBond is an excellent choice for overly warm and humid weather as it adheres even in tropical weather. EternaBond is also somewhat flexible, so it can move easily as your RV hits bumps in the road and the roof takes dips and dives. It's only downside is that EternaBond is a bit pricier than other options.
Dicor BT-1834-1′ Butyl Seal RV Roof Tape. This thin, long tape allows for easy application even for longer cracks and gaps. It can also be used to seal air conditioners, window frames, and other such areas, both in the RV and in the home!
Remember to check with your dealer or an RV repairperson near you to find out the best RV repair method or sealant for your trailer or motorhome in particular, and to assess an overly damaged roof, so you know when it's time to replace that roof altogether.
Here at Tampa Mobile RV Repair, we hope this helps you understand how to repair an RV roof. If you need RV roof repair in the Tampa area, give us a call. We offer high-quality repairs with durable, name brand materials designed and built to last. To find out more, call the experts at Tampa Mobile RV Repair today.